Laser Gum Treatment with LANAP™
Lake Oswego, OR
Laser-Assisted New Attachment Procedure (LANAP™) is a new therapy that allows for the effective treatment of periodontal disease with no removal of tissue.
Effectively Treating Gum Disease with No Cutting or Suturing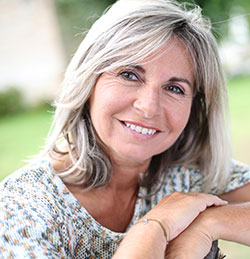 LANAP™ is a gentle, conservative, non-invasive method of treating gum disease without cutting, suturing or removing healthy tissue. Using a precision laser, Dr. Hoidal, of Lake Oswego Periodontics, is able to kill up to 99% of the disease causing bacteria in the periodontal pockets. The laser specifically targets disease causing bacteria and because they have no defense, the bacteria can not adapt and avoid elimination as with anti-biotic treatment.
With laser periodontal therapy, there is no cutting or suturing. Compared with traditional methods of treating periodontal disease, this provides a fast, virtually pain free procedure that effectively treats periodontal disease.
Additionally, the precision of the laser allows Dr. Hoidal to avoid removing significant tissue. This allows for a faster recovery and minimal loss of tooth and bone structure after the procedure..
The Laser Procedure
LANAP Procedure
Because your resistance to disease is affected by many factors, we will begin your first visit with a review of your dental and medical histories. This is followed by a thorough periodontal examination of your mouth and discussion of findings and treatment options. You may find it helpful to bring your spouse or a friend with you to this appointment. In most cases, no treatment is performed at this appointment.
On your treatment appointment, a small laser fiber is inserted between the tooth and the gum and the bacterial infection is removed. It takes just one 3 to 4-hour session or it can be broken into two 1.5 to 2- hour sessions. Dr. Hoidal will treat the entire mouth at once or break it into two sections and do one side of the mouth at a time. Most patients feel fine returning to work the very next day.
Laser vs. Traditional Gum  Disease Surgery >>
Nearby Patients from Tigard, OR welcome!
Patient Reviews
Lake Oswego Periodontics
is rated
4.7

out of

5

based on

37

reviews from around the Web.
Dr. Hoidal and team have me on a healthy path to better gums. Professional, friendly and pain free!

I felt confident that my care was being provided by the best possible team. My gum graft went well and so did my recuperation time.

I felt confident that my care was being provided by the best possible team. My gum graft went well and so did my recuperation time.

Dr. Hoidal did a great job coordinating with my orthodontist. When my braces were removed, I received a prosthetic tooth from my dentist.

Dr. Hoidal is pleasant to his patients. He will do the best he can for his patients as needed. Hoidal.

They were friendly and professional with excellent care. They made a scary event so much better. Being born in the 40's dentist have not been my favorite people but you guys have changed my mind. Thank you.

A very friendly office staff which makes patients comfortable the moment they enter the office. Dr. Holidal is very professional and keeps his patients appraised of all the procedures he is doing. I can highly recommend this clinic.

Dr. Hoidal, Jan, Heather and the entire staff could not have been better! My gum graft went well and so did my...

I had a very positive experience here at dr Hoidal's office. Patient care is a premium. My procedure was a soft graft and I'm having excellent results. This...

All the staff and Dr. Hoidal are terrific! Friendly, professional care of the finest quality. Great experience!

The entire staff were very friendly and Dr Hoidal was also just as nice. He has great bedside manner, easy to talk to and explained everything in detail. I...

Everything is now sound and the new bridge is on its way.At all times, I was very pleased with his approach, thoroughness of his diagnosis and plan, and his manner.

Great Rx for my issues. Office people helpful and pleasant. Office location gives nice ambience.

I found everyone in Dr. Hoidal's office to be both friendly and professional. They explain things thoroughly and are all good listeners.

Dr.Hoidal and staff are amazing. Great experience!

Great staff & calming views of the river too.