Patient Information

Patient Concerns
Patient Education
We feel patient education is very important. Our goal is that you are completely informed concerning your condition and any treatment that will be performed. We encourage you to voice any questions you may have.
Patient Safety
We fully adhere to professional standards of cleanliness, sterilization, and radiation control. Our staff are likewise knowledgeable on the latest techniques.

Sterilization
We know that preventing the spread of infectious diseases such as AIDS, herpes, hepatitis and even the cold virus is critical.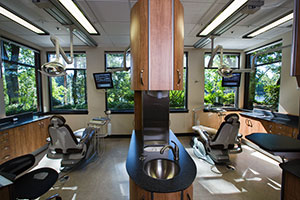 We use barrier techniques such as disposable masks and gloves and replace them with every new patient. Each piece of fixed operatory equipment is wiped-down with antibacterial solution prior to every clinical procedure. Sterile water delivery systems are utilized. We use autoclave sterilization for all instruments prior to dental examination and treatment. You can be assured that our staff have been specifically trained on sterilization procedures and their importance.
Pre-medication
Patients with certain medical conditions (e.g. valvular heart conditions and artificial joints) may be asked to pre-medicate with antibiotics prior to treatment. We do this with your safety in mind. Please inform us if you have a condition that might require pre-medication.
Post Treatment Instructions
After treatment, home care and medication instructions will be thoroughly explained. For your convenience, you will also be given printed instructions. Of course, we are always available for questions after treatment.
Patient Comfort
We go to extraordinary lengths to ensure our patients are as comfortable as possible during dental procedures. Please click here for more information on this topic.
In addition, for your convenience, we offer refreshments in our waiting area and a selection of music and headphones in our operatories.
Special Equipment
We continually integrate proven technologies into our practice. Below is an introduction to some of the advanced equipment we use:
Magnifier Loops
You may have seen a magnifier loop in a jewelry store when the jeweler was closely examining a diamond. Dental magnifier loops are made for periodontists to view your teeth and gums in minute detail during periodontal procedures. Dr. Hoidal uses periodontal loops in many procedures to ensure more precise treatment.

Microsurgery Technology
During microsurgical procedures, surgical microscopes are used to illuminate and magnify delicate structures. The periodontist can then operate with greater precision, using smaller instruments and sutures. Microsurgery is less invasive, causes less discomfort, and typically produces better results in less time.

Simplant
Simplant is computer 3-D imaging software that enhances the overall success of your dental implant. 3-D imaging gives us a more complete picture of the quality and quantity of your bone support making it possible for us to better determine the ideal location for your dental implant.

Precise LTM Diode Laser
Where indicated, our dental laser can be used in the following procedures: Crown lengthening, Frenectomies, Biopsies, Tissue Excision. Laser procedures have among their many benefits, faster healing time and less pain.