Periodontal Disease

What is Periodontal Disease?
The word "periodontal" means "around the tooth." Periodontal disease (also known as "gum disease," "pyorrhea" or "periodontal infection") is an ongoing bacterial infection in the gums and bone around your teeth. This infection leads to an inflammation under the gums, and if not treated, this inflammation can destroy the bone around your teeth. This results in tooth loss. Approximately 75% of all adult tooth loss is due to periodontal infection.
More importantly, research has associated periodontal infection to several serious medical problems, including heart disease, diabetes and stroke (see the "The Consequences of Periodontal Disease" section). As ongoing research continues to define how periodontal disease is associated with these and other health problems, oral health maintenance is essential. Periodontal health is a key component to a healthy body.
What is an "Ongoing Infection"?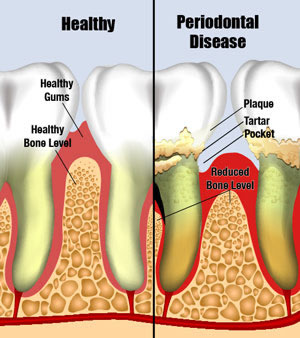 Have you ever gotten a sliver of wood caught under the skin of your hand? Because the wound is open to bacteria, the site may become infected and so appear red and inflamed. In time, your immune system fights off the bacteria and your hand heals.

During an ongoing infection , however, your immune system is unable to conquer the bacteria on its own and the pain and redness continue to worsen.

Periodontal disease is an ongoing infection in the pockets around your teeth. You cannot fight off the infection alone, but with periodontal therapy, we are able to remove debris and bacteria from the site allowing the gum to heal as your hand had.
What Can Cause a "Burst" of Infection Activity?
People with periodontal disease have low resistance to periodontal bacteria. This causes an ongoing gum infection that grows in "bursts" of activity. Each time it grows, more support for your teeth is lost. Some factors that can cause a "burst" of activity are:

Poor oral hygiene
Dental plaque
Smoking
Genetic factors
Stress or tension
Diet
Age
Illness
Getting Periodontal Infection Treated Right Away
When your infection has a burst of activity, or when there are signs that this is about to occur, your general dentist may recommend you see a periodontist.
Symptoms of Periodontal Infection
Periodontal infection is usually painless until it reaches an advanced stage. However, there are some symptoms which can indicate the presence of periodontal infection.
These include:

Red or swollen gums
Bleeding when brushing (pink toothbrush), or at other times
Aching, itchy, sore or tender gums
Receding gums (teeth beginning to look longer)
Pus between your teeth and gums when you press down on the gums
Bad breath
Any change in the way your teeth fit together when you bite
Any change in the fit of partial dentures
Loose, separating or protruding teeth
Spaces between teeth
If you notice any of the above warning signs of periodontal infection, please contact your general dentist and ask for a periodontal evaluation.

Important Note: Your gums can look and feel quite normal and yet deep pockets of periodontal infection can still be present. To be certain about any periodontal disease, ask your dentist or periodontist to examine your gums for signs of infection.
Who is a Periodontist?
A periodontist is a dentist who specializes in the prevention, diagnosis and treatment of periodontal disease. Many periodontists have also taken advanced training in the placement of dental implants. Periodontists receive extensive training in these areas, including 2 to 3 additional years of education beyond dental school.

Periodontists also provide other treatments, such as crown lengthening and bone regeneration (see the Individual & Cosmetic Procedures section for more information on these procedures).
Patient Reviews
Lake Oswego Periodontics
is rated
4.7

out of

5

based on

37

reviews from around the Web.
I felt confident that my care was being provided by the best possible team. My gum graft went well and so did my recuperation time.

Just went in for a consultation that was recommended by my dentist. What a responsible and ethical place of business. Thank you!

Dr Hoidal is the best! I highly recommend him.

We took our younger daughter in for a gum graph, and the whole team handled her with care and made us feel all at ease for a "scary procedure" for her. It...

All the staff and Dr. Hoidal are terrific! Friendly, professional care of the finest quality. Great experience!

Dr. Hoidal did a great job coordinating with my orthodontist. When my braces were removed, I received a prosthetic tooth from my dentist.

The entire staff were very friendly and Dr Hoidal was also just as nice. He has great bedside manner, easy to talk to and explained everything in detail. I...

A very friendly office staff which makes patients comfortable the moment they enter the office. Dr. Holidal is very professional and keeps his patients appraised of all the procedures he is doing. I can highly recommend this clinic.

I had a very positive experience here at dr Hoidal's office. Patient care is a premium. My procedure was a soft graft and I'm having excellent results. This...

I found everyone in Dr. Hoidal's office to be both friendly and professional. They explain things thoroughly and are all good listeners.

Thank you to Dr. Hoidal and his staff for being open during the "snow apocalypse"!!! After calling multiple offices for two days, trying to find one open to...

An absolutely fantastic environment, friendly staff, and amazing performance. Everything went smoothly and turned out great, would definitely recommend for...

Friendly and very professional

Professional, friendly and pain free!

Dr. Hoidal is pleasant to his patients. He will do the best he can for his patients as needed. Hoidal.

Everything is now sound and the new bridge is on its way.At all times, I was very pleased with his approach, thoroughness of his diagnosis and plan, and his manner.

Friendly reception, short waiting time, thorough exam and good explanation of process

Dr. Hoidal and team have me on a healthy path to better gums. Professional, friendly and pain free!